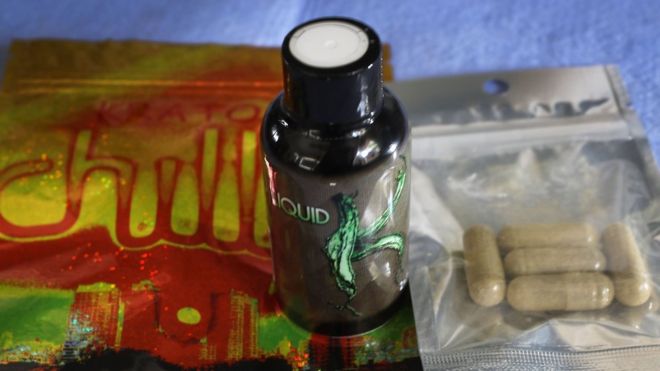 More than 300 UK retailers are no longer selling so-called legal highs, three months after a ban was introduced, the Home Office has said.
A further 24 shops have been closed down altogether, while police have also arrested 186 alleged offenders.
The Home Office said it was "encouraged" that so many retailers had been "denied the chance to profit from this reckless trade".
However, the charity DrugWise said the ban had driven the market underground.
Legal highs became popular on the drug scene around 2008. They contain substances which mimic the effects of illegal drugs such as cocaine, cannabis and ecstasy and go by names such as Spice and Black Mamba.
Laws criminalising the production, distribution, sale and supply of the drugs – known as the Psychoactive Substances Act – came into effect at the end of May.
Commander Simon Bray, from the National Police Chiefs Council, said London's Metropolitan Police had also seized nearly 14,000 nitrous oxide or laughing gas canisters since the change.
Mr Bray said although it was difficult to draw firm conclusions about the impact on use of the drugs, "intuitively I think it must have had an effect".
"It will certainly make it less easy for the casual first-time user to get involved in this sort of stuff," he said adding that he believed many people were "lulled into buying these things" thinking they were legal and therefore safe.
The Angelus Foundation, which educates people on the risks of legal highs, said it believed many online traders had also shut down.
Jeremy Sare, director of communications at the charity, told the BBC: "I think the ban has made a big difference and we are supportive of the legislation.
"What we are surprised about is the online supply hasn't surged. Traders seem to have stopped selling. It is still early days and we may look back in 12 months and see more online trading but many look to have closed.
"Many were operating within the law but now the law has gone against them so they haven't continued."
He said the two biggest groups still using the drugs were homeless people and prisoners.